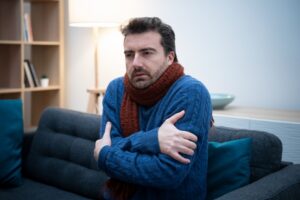 Okay, okay, so maybe our definition of "cold" isn't quite the same as our neighbors up north. But let's face it, we do deal with chillier temperatures in the wintertime, and sometimes (like just last year) we're surprised with a REALLY cold weather front that we don't have the infrastructure to support in our city. This means that if your furnace breaks down during a really cold day (or worse, night), you may be without a source of heating for a while before you can have repairs done.
When yours is out of commission, it can definitely feel like an emergency. That's when it's time to give our team a call! While you wait for our technicians to arrive though, we have some tips for you to stay warm. Read on!
Cook a Meal!
While we would never recommend using any cooking appliances solely for the purpose of heating your home, as this can be dangerous, there are some ways you can use your cooking appliances to invite warmth in naturally.
Have a hearty meal you can cook on the stovetop, in your slow cooker, or in the oven? Or maybe you have some cookies you've been waiting to bake. Now is the time! This is a natural way to heat up your home while your heater is out of commission.
Additionally, so long as there aren't any small children or pets in the home (this is important!), you can consider cracking the oven door open a little bit after you turn it off to allow the heat to dissipate into the home and help keep it warm.
Another thing you can do in addition to this is use the switch located near the center of your ceiling fan to reverse the direction of the blades. Heat rises, and reversing the fan blades pushes warm air down from the ceiling into your living space.
Layer Your Clothing
"Bundling up" isn't something we are super familiar with here in Texas, but it will certainly help keep you warm if your heater breaks down this fall or winter. It might seem silly to pile on the long-sleeved shirts, sweatshirts, and blankets while you're in your home, but if that keeps you comfortable, it may be worth it.
Remember, heat exits your body through your head, feet, and hands. So when you layer, don't forget these areas. Fish out those fuzzy socks and gloves, find that old beanie you got for your birthday a few years ago, and feel the warmth.
Get Active
Have you been considering starting a new at-home workout routine? Maybe now is the perfect time to get started! Moving your body is a great way to naturally raise your internal temperature and stay warm.
If there are children in your home (or even if there aren't!) you could make a game out of moving your bodies by holding a "dance party." Remove the breakables from the room, push the furniture to the walls to avoid injury, and have fun!
To get professional services on your HVAC in Cypress, TX, contact Cool Care Heating and Air Conditioning.