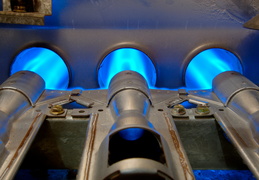 The short answer to this is, "it could be dangerous." Give us a moment to elaborate on this.
We're not surprised so many homeowners in our area choose a furnace for their heating needs. Gas furnaces are powerful and quite capable of keeping homes warm all winter long—no matter how brief and mild those winters usually are—this year has proven powerful heating systems are even more important!
Gas-powered heating systems are very cost efficient and make a great heating option for many reasons. However, like we said above, they can be dangerous. No gas-powered heater is inherently harmful, but if not cared for properly it could become so, risking carbon monoxide (CO) leaks and subsequent exposure.
This is more of a risk in an aging furnace, but can also happen in one with poor ventilation—read on to learn more!