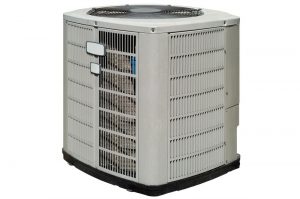 Let us start by saying, we aren't sharing these steps to encourage you to install an air conditioner all on your own. In fact, we advise exactly the opposite. Air conditioners are complex appliances and require a trained and experienced professional to handle.
We understand, however, the sense of urgency here. If you're reading this post in mid to late spring, temperatures have already begun to rise to the point that we need our cooling systems on a daily basis. If you're shopping for one at this point, it means you need one now.
But rushing into a purchase like this could leave you sacrificing comfort and efficiency, particularly if you actually try to install the system on your own. Read on as we go over the three steps of a professional air conditioning installation.
1. Removing the Old System
This is not as simple as just taking out an air conditioner and tossing it aside. Your old air conditioner has a number of components that require proper disposal, first of all, such as refrigerant. Professional technicians will know how to manage this.
Removing the old air conditioner is actually the most arduous and lengthy part of the AC installation process. Special care must be taken to ensure nothing is knocked out of place, and then the space must be prepared for your new system—both the indoor unit and the outdoor unit.
2. Making the Connections
Once your new air conditioner has been properly installed, your technicians will connect it to the important parts of your home for it to function. The main component we're talking about here is your ventilation system—your ductwork.
Sometimes, your ductwork will need to be shifted around in order to make these connections. A professional will know how to do this without damaging anything in the process. The same goes for the electrical connections needed for your air conditioner to function.
3. Testing the Air Conditioner
This is the final step of professional installation, and also the most important! If our installers left your home after making the last connection, you'd have no idea if your cooling system was actually working as it should. We will turn on your air conditioner, measuring the intake and the airflow to see if operation is sufficient.
We'll also make sure there are no safety hazards, and make sure the system is doing everything it should.
This is only a broad overview of what the AC installation process looks like. Keep in mind that the whole process usually starts days before, with the proper selecting and sizing of the system—an overpowered air conditioner can be just as detrimental as an underpowered one. There are a number of smaller steps involved as well, that only a trained and experienced professional will know how to deal with.
For professional air conditioning installation in Houston, TX, contact Cool Care Heating and Air Conditioning—where you'll get "The Best Care for Your Air!"