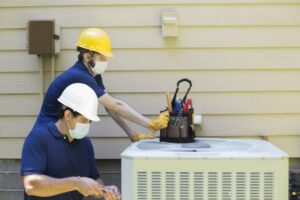 If you've followed our blog for a while, then you may have noticed that we talk about professional maintenance a lot. This is for good reason—it's an important service for the functionality and efficiency of your air conditioner! Too often though, homeowners see this as a "luxury" service—an optional thing that people only get if they have extra money in their budget. However, maintenance can help protect your system and save you money in the long run.
Professional maintenance gives our technicians the opportunity to locate small problems with your cooling system before they grow into much bigger emergency repair needs, helping your cooling system perform better and last longer. This is great news for your budget, but what actually happens during maintenance?
The Three Steps of Professional Maintenance
You may think you can do maintenance on your own, but this isn't true. Yes, there are a couple small maintenance-type tasks you can do on your own. This includes changing out the HVAC air filter every 1-3 months and cleaning the area round the outside unit. But everything else should be left to the pros. And "everything else" includes these three steps:
Cleaning the interior components of the AC system
Adjusting any AC components that need it
Inspecting the system and checking for repair needs before they grow into bigger emergencies
These steps should only ever be completed by a professional. The reason for this is because there are components that could be harmful to homeowners or over-enthusiastic "DIYers." This can include things like refrigerant or electrical wires.
Here's some of what our professionals do when we come to maintain your AC unit:
Check the condenser and evaporator coils to ensure they are unobstructed, clean, and have the ability to absorb and release heat.
Check the refrigerant level. Upon manufacturing, your system has enough to last its entire lifespan. If any is leaving your system, it means there is a leak that must be accurately located and fixed.
Check the electrical connections. This step might involve tightening components that need it and checking that there are no frayed wires or anything of that nature.
Clean the condensate pan and drain so that moisture from the evaporator coils don't overflow and cause problems for both the system and your property.
Clean and lubricate motors and motor bearings for the fan and compressor in order to relieve any mechanical stress that could lead to burnout.
Check that the thermostat is correctly reading the temperature in your home, and recalibrate the device if it isn't.
Check the air filter. Even though you should be changing your air filter every 1-3 months depending on the type of filter and level of contaminants in your home, we'll double check this for you.
The steps of maintenance are complex, and by allowing a professional to do the job, you can count on a more efficient system with fewer repair needs and a long lifespan.
Contact Cool Care today for professional maintenance and air conditioning repair in Houston, TX!