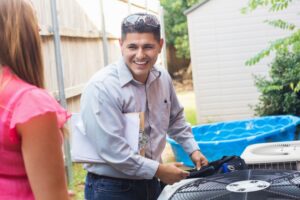 If you've been following our blog for a while, then you probably have seen us mention maintenance quite a few times. This is because of how important HVAC maintenance is. Still today, a number of homeowners see this service as a "luxury" and only invest in it if they feel they can afford it. However, professional AC maintenance actually helps you save money. You can't afford not to have it done!
Professional maintenance tune-ups help our professionals locate small issues with your air conditioner before those issues grow into bigger emergencies. Tune-ups also help your system operate more efficiently, and last longer. This is all great news for your budget, right? However, what actually happens during air conditioner maintenance? What does this service actually provide? Read on to find out!
The Power of Professional Maintenance
We want to first start by saying, that comprehensive maintenance should always be left to the professionals. There are a couple of small maintenance tasks that homeowners can do on their own, and we encourage you to do them too!
First off, you should be changing your HVAC air filters every 1-3 months during periods of system use. Secondly, before each cooling season begins you should check the outside unit and make sure it's free of debris. This debris might include leaves, lawn mulch, tree branches, and more.
Doing both of these tasks will help improve system airflow and your air conditioner's performance overall. But actually digging into the interior components of your system to clean, adjust, and repair them takes our professionals. So, what do we actually do, you ask?
We check your evaporator and condenser coils to make sure they aren't obstructed and that they are clean, and therefore able to absorb and release heat.
We check the refrigerant level. If you're losing refrigerant, it means there is a leak, which can lead to a complete system breakdown. The leak must be repaired and the refrigerant needs to be "recharged" (refilled).
We check all the electrical connections and tighten them wherever necessary.
We clean the condensate drain and pan so that moisture from the evaporator coils doesn't overflow them.
We clean and lubricate the fan and compressor motors to prevent mechanical stress that could otherwise lead to these motors burning out.
We check that the thermostat is correctly reading the temperature, and we recalibrate it for you if not.
We check, and replace if needed, the air filter. We mentioned above how this is a task you can and should be doing on your own, but that doesn't mean we'll skip out on checking it ourselves!
If you want your air conditioning system to last a long time and function well over that lifespan, then you'll want to make sure you invest in AC maintenance once a year. If you have a heat pump system that you use year-round for heating and cooling, then the system will need to be professionally checked twice a year.
Reach out to Cool Care Heating and Air Conditioning today for AC maintenance in Houston, TX.