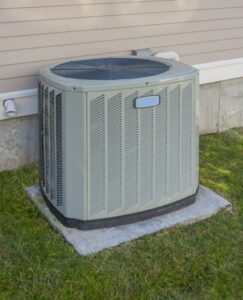 There are so many things to consider when you need a new air conditioner. What new options have become available since you last needed to replace your AC unit? How much do they cost? What capacity does your home require? When can you schedule the installation? Something that might be helpful to know is how much time to plan for your AC installation and we'd like to be up-front about what to expect.
What Happens During AC Installation
When your technician arrives, they will be able to give you a detailed description of what they need to do in your particular case, and they should give a time estimate then. However, we'll give you a general idea.
They'll begin by taking steps to protect your floor and furnishings, such as laying down cloths so that nothing is damaged in the process. They'll remove your old air conditioner, make any necessary modifications to allow the new air conditioner to be installed properly, and then install it, making all the connections required for it to run. Finally, they'll test the unit, running it to make sure it works exactly as it should.
A General Time Estimate
Most air conditioner replacements are able to be installed within an 8-hour window, sometimes less. This does assume that you're replacing the old unit with a similar model and that any modifications to your home are minor.
Factors that Extend the Time Estimate
A Different Type of System: Replacing a traditional air conditioner with something else such as a ductless system, or vice versa, will mean that more work is necessary to make the transition.
A First-Time Installation: If you've only had window units in your home and are getting a central air conditioner or ductless system for the first time, the process will take longer.
Ductwork Repair: If the ductwork in your home is damaged, or you need to install ductwork for the first time, that work will add to the time necessary to get your air conditioner up and running.
How to Make the Process More Efficient
There are a few things you can do ahead of time to help streamline the process and make it faster for your technician to get that new AC unit installed.
First, make sure there is a clear path from where they will park to both the door they should come through and to the area where the outdoor unit will sit. Tripping over bicycles or getting tangled in overgrown greenery can slow the process down.
Second, clear the way inside your home, making an easy clutter-free path for your technician and moving any furniture that might be awkwardly close to the air conditioner or block doors from opening all the way.
Third, make sure your pets are secured in a separate room. We love animals as much as anyone, but their curious noses don't make the process easier, and we'd hate to step on a paw or let an indoor cat outside while we're working.
Now you are better equipped to plan time for your AC installation and to make sure the process goes as smoothly as possible for you and for your AC installer in Houston, TX.
Reach out to Cool Care Heating and Air Conditioning, The Best Care for Your Air.