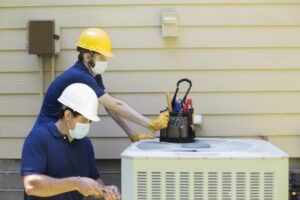 It's that time of year again! The weather is warming up, it won't be long before you need to use your air conditioner, and scheduling AC maintenance needs to be at the top of your to-do list. We often talk about just how important it is to have your air conditioner maintained every year, and list the benefits you'll reap from having that done. Now, we'd like to give you some details about what the process entails. Here are the critical steps that your qualified technician will go through during maintenance to make sure your AC unit is in top condition.
Checking the Coils
It's common for AC problems to occur when the condenser coils on the outdoor unit of an air conditioner are dirty or obstructed in some way. The evaporator coils on the indoor unit can also become dusty or have other issues, preventing heat from being absorbed. Your technician will inspect and clean the coils in both areas to ensure that they're operating as they should.
Checking the Refrigerant Level
Your air conditioner was manufactured with all the refrigerant it should ever need. However, if a leak occurs and refrigerant is lost, your AC unit will no longer be able to cool your home effectively, and it can even cause damage to the compressor. Your technician will make sure the refrigerant is still at the proper level, and if it's not, it will be necessary to find the source of the leak, repair it, and refill the refrigerant.
Checking the Electrical Components
Sometimes, electrical connections come loose and need to be tightened or reattached. Electrical issues can be dangerous in addition to preventing your air conditioner from working so your technician will inspect all the electrical components.
Cleaning the Condensate Pan
Condensation from your air conditioner flows into the condensate pan and out the drain so that water won't accumulate, develop mold, or cause water damage. Cleaning this part of the system will make sure drainage is smooth and complete.
Lubricating the Moving Parts
Friction can cause a lot of wear and tear. Moving components like the fan and motor of your air conditioner require lubricant so they will move easily and not strain the system. Your technician will clean and lubricate these parts.
Checking the Thermostat
Occasionally, a thermostat's readings will be off, preventing the air conditioner from getting the signals it needs in order to keep your home at your desired temperature. Your technician will check that the thermostat is accurate and recalibrate it if necessary.
Changing the Air Filter
This is a simple task that you should be doing every 1-3 months when your air conditioner is running often, and at least every 3 months when it's running less frequently. Your technician will do it too, just to make sure every bit of your air conditioner is clean and functioning as well as it possibly can. 
When you're ready to schedule AC maintenance in Houston, we're ready to hear from you.

Reach out to Cool Care Heating and Air Conditioning, The Best Care for Your Air.