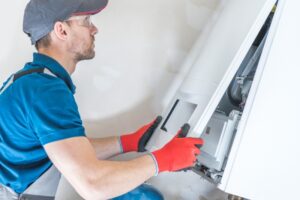 The last thing any Houston homeowner wants to deal with right now is a broken-down furnace. Unfortunately, though, that's the reality that many of us are facing right now! Never before have our furnaces had to go through that much work to keep us warm as they did just weeks ago.
So if you've come across this blog, there's a very good chance that you're one of many Houston residents whose furnace finally bit the dust, and you're in the market for a new one. Chances are, you're looking to save money in any way possible right now. You might be tempted to find and install a furnace on your own. This can be a mistake, though!
There is a significant amount of work that goes into each and every furnace installation. Attempting an installation on your own could result in an inefficient, ineffective, and potentially even dangerous furnace (at least, in the case of a gas-powered system). Read on as we uncover the steps that our professionals go through for your furnace installation.
First, We Remove the Old Heater
This sounds like the easiest step of a furnace installation, right? But it can actually be the most tedious and laborious part of the whole entire process! It is about much more than just pulling the old heating system out and putting in a new one. If your furnace is already connected to your gas line, for example, then our professionals have to ensure that nothing is damaged or knocked out of place when we remove it.
We also need to ensure that the furnace is properly sized for the space that it's heating. No, this doesn't mean that we just have to make sure the furnace physically fits in the space—we have to make sure the furnace isn't underpowered or overpowered for your home. This process requires a heat load calculation, which our team is trained to do in any type of home. Without a proper heat load calculation, you could be stuck with an incredibly inefficient heater that fails years before its time.
Next, We Make the Appropriate Connections
Once your new furnace system is in place—and this usually includes bolting the system to the floor—our professionals connect the system to the components needed for its operation.
This includes the ventilation system (your ductwork). The ducts have to be hooked up to the furnace correctly in order to avoid damaging them. If they accumulate damage during the installation process, you'll have repairs to take care of before you can start using your air conditioner this spring too.
Next, we hook the furnace up to its power source. We have your safety to consider with this step—particularly if your furnace is a gas-powered one. Any connections to your gas line require an experienced and properly licensed professional to handle.
Last, but certainly not least, we have to hook up electrical wiring. Even gas-powered heaters have electrical wiring within them—modern gas furnaces often use an electronic igniter.
Lastly, We Test Your Heating System
What kind of HVAC professionals would we be if we installed your system, and then simply left your home? You want your HVAC installer to ensure that the system actually works. Not only that but one works as it should.
For quality furnace service in Houston, TX, contact Cool Care Heating and Air Conditioning: "The Best Care for Your Air"