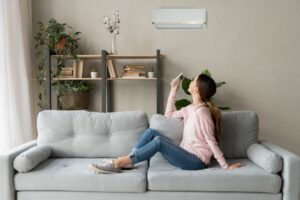 With temperatures warming up now, you might be considering a heating system replacement. After the intense winter weather we experienced this year, it's no surprise if your old heater bit the dust. Of course, this doesn't mean you should rush into buying a new heating system right away. You have time to consider your options now, and for many homeowners, a ductless heating system is the right choice.
Ductless systems are versatile, allowing for both efficient heating and effective cooling as well, plus they save space and save money too. If you've never considered how a ductless system will benefit your home, now is the time to do so. Read on to learn more!
All about the Ductless System
Have you ever wondered what a ductless system is all about? They're not that common, but they are definitely growing in popularity.
They are essentially heat pump systems. Heat pumps are like central air conditioners with one very important difference—the refrigerant flow inside them can be reversed in order to cool or heat your home. And what makes the ductless systems different is that instead of using a single indoor unit and ductwork, they have up to 4 indoor, often wall-mounted, air handlers that connect to each outdoor unit.
You can run each indoor air handler independently from each other so that each member of your household can have personalized comfort. This is also helpful when you have certain rooms that are consistently warmer than others, naturally (think, a kitchen versus a bedroom with north-facing windows).
So, Is Ductless Heating and Cooling Right for You?
It depends! Ductless systems aren't right for every home. For instance if you have a 1 bedroom, single level apartment-style home that already has sufficient ductwork in it, you may find that you benefit more from a traditional central air conditioner or heat pump system. But if your home is 2+ levels and has a few rooms or more, going ductless might be right for you. Here's how you'll benefit:
Greater Comfort: Have you ever noticed that some areas of your home tend to stay chilly no matter how long your heater runs for, or warm no matter how long your air conditioner runs for? Sometimes some spots in your house need something a little extra. You can keep your kitchen cool while warming up that back bedroom with individual air handlers.
Cost Savings: Homeowners sometimes think that they need to turn off their central furnace or air conditioner altogether to save money. But this actually costs them more, since it drains more energy turning these systems on and off repeatedly than it does simply just letting them run as needed. With a ductless system, you don't need to worry about this at all, since you can have multiple air handlers off all day and just run one if you need to, or vice-versa.
Space Savings: As we mentioned above, ductless air handlers are often wall-mounted. This saves space in your home that you otherwise wouldn't have with a large central air conditioner or even a heat pump system.
For professional Houston, TX ductless heating services, contact Cool Care Heating and Air Conditioning today!