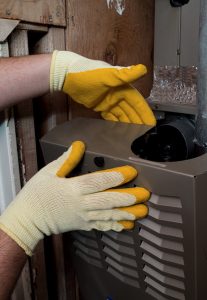 It's September. We still have plenty of warm weather left and it's not like we get blizzard conditions like other parts of the country. Still though, when winter does roll around again and you need heat in your home, you'll be thankful for a fully efficient and effectively operating heating system. The only way to ensure this is actually the case is by getting heating maintenance on your schedule now.
The reason we recommend heating maintenance in the fall is because it's before you need your system the most–before it goes through all the work it takes to keep your living space comfortable. Of course, consistency is what matters most here. The more consistent you are with routine heating maintenance, the less chance there is of having an unexpected emergency repair need. Read on to learn some of the benefits of heating maintenance.
Your Heater Will Be Safer
Heating systems are not inherently unsafe. But if you have a gas-powered heating system, there's always going to be at least a small risk there. The last thing you need to worry about is that your furnace may become dangerous over the winter.
During your heating tune-up, our technicians will run through an inspection checklist that goes through areas were a furnace or other gas-powered system may develop safety problems, like a cracked heat exchanger or even a loose gas line. Maintenance gives you peace of mind!
Prevent Emergency Repair Needs
When temperatures drop low enough in the winter, you don't want to have to scramble to call for repairs because your furnace has abruptly stopped working, right? Fortunately, you won't need to as long as you keep on on your tune-ups, and you schedule repairs as soon as you're alerted to their needs.
By doing this, you can potentially avoid up to 85% of the repair needs a heater may ever need in its lifespan.
Extended Heater Life
Speaking of lifespan, you want your furnace or heating system to last for many years before you need to replace it, right? Premature heater replacement, after all, is an expense that no homeowner wants.
The average furnace lasts 10-15 years before needing replacement, as long as its well-cared for. But without maintenance, that lifespan could potentially be cut in half.
Keep Energy Costs Low
A furnace or heating system that doesn't get it's routine tune-up or cleaning will start succumbing to wear and tear faster.
With problems such as extra friction on the motors and burners struggling to produce enough heat, the system will drain more power to operate, causing a spike in your home heating bills. Maintenance helps a heater retain 95% of its energy efficiency rating throughout most of its lifespan.
Maintain the System Warranty
Did you know trying to solve heater problems on your own can actually void the warranty? We're talking about your heater's manufacturer's warranty. There is usually a clause that prevents you from attempting service on your own when it comes to keeping the warranty current. Fortunately, you needn't look too far for maintenance pros!
For professional HVAC maintenance in Houston, TX, contact Cool Care Heating and Air Conditioning today! "The Best Care for Your Air"