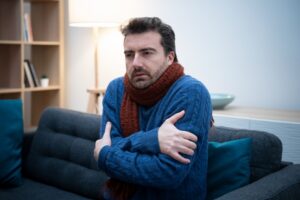 New homeowners, or those encountering furnace problems for the first time, often have questions about what issues are common and what can be done about them. Here are some common furnace repairs that we see most frequently, tips for handling them, and preventative measures for avoiding them in the future.
Clogged Air Filters
If you notice that your furnace isn't heating effectively, or it sounds like it has to work harder to get the job done, check the air filter. This is an easy fix that you can remedy yourself: simply clean it or replace it, depending on the type of air filter you have. Replacing the filter every 1-3 months should be a part of your regular home maintenance routine.
Failure to Start
First, check that the circuit breaker hasn't tripped, make sure the furnace switch hasn't been accidentally knocked from ON to OFF, and look to see if your thermostat is adjusted incorrectly. You might also check with your utility company, as a fuel line break or other problem may be preventing your furnace from receiving gas. If all is as it should be, it's time for furnace repair in Houston, TX, so your starting mechanism can be fixed or replaced.
Ductwork Concerns
If you're experiencing a lot of dust when the heat is on, a mildew smell that you can't find a source for, or uneven heating of different rooms, it's time to have your ducts checked. Perhaps they just need professional cleaning or perhaps there is a crack affecting airflow or pulling dusty air in from your attic or between your walls.
Fan Not Blowing
If your furnace is heating, but the hot air isn't being blown out of the vents, the blower is the culprit.
Do you hear a grinding or groaning noise? That could be the sound of the bearings wearing down.
How about a clattering or squealing noise? That's likely because the belt has either shifted from its proper position or developed a tear.
Does the fan keep trying to start up but then shut off almost immediately? This can happen when the capacitor is damaged.
A technician can fix any of these issues with ease, but continuing to operate the furnace under these conditions will exacerbate the problem.
Cracked Heat Exchanger
This is the most urgent problem to address because it poses a huge safety hazard. It's more common in older furnaces and the first warning sign will usually be a clicking sound. Although other issues can cause this sound, if you hear it and smell gas, you should take immediate action. If there is a crack in the heat exchanger, there's a risk that carbon monoxide is seeping from the crack and into your home. Turn the system off and call for emergency repairs.
The Importance of Maintenance
The likelihood of your furnace developing these and many other issues can be drastically reduced by having annual furnace maintenance done. Your technician will clean, inspect, lubricate, and test the components of your furnace to make sure it's operating safely and efficiently. This reduces system strain and wear and tear, and will even help to extend the lifetime of your furnace.

Reach out to Cool Care Heating and Air Conditioning, The Best Care for Your Air.