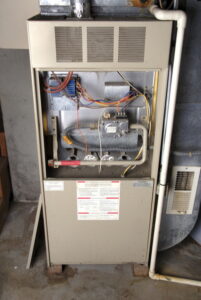 To keep your heater working as well as possible through the coming winter, it's important to schedule heating maintenance. This will do more than just catch any existing problems before they cause your heater to shut down on a cold winter night. It will improve the efficiency of your heating system so your utility costs don't increase, ensure that there are no safety hazards such as fuel leaks or carbon monoxide emissions, and increase the life expectancy of your heater so it will last as long as possible before you need to worry about replacing it.
But the process may be a little mysterious, and we'd like to demystify it for you. Here is a guide to what your technician will actually be doing during heating maintenance. Some of the steps will be different for gas and electric heaters, but many are identical.
Cleaning
The interior of your heater will be cleaned, including the flame sensor, pilot assembly, blower motor, and surrounding areas. It's critical that these parts be clean and free of dusty buildup so that they function properly. For example, a dirty flame sensor may not be able to detect a flame, which means your heater will think the pilot is out, so it will not turn on for safety reasons. 
Checking Components
Your technician will check all the individual parts of your heater to be sure they are in good working order and functioning properly. This includes the heat exchanger, flue, ductwork, ignition system, burner tubes, safety controls, and more. If any components require repair or replacement, your technician will discuss this with you.
Electrical Testing
All electrical components, including the thermostat and the blower motor capacitors but also every electrical connection, will be inspected and tested to ensure that they are securely connected, properly calibrated, and operating safely.
Lubrication
Any time there are moving parts in a piece of machinery, there is friction. Too much friction leads to wear and tear and overheating. Therefore, all moving parts, such as the blower motor and fans, will be lubricated so they move smoothly.
Gas Safety
If your heater burns natural gas, there are special considerations for maintaining safety. Your technician will make sure there are no signs of gas leakage, check the CO2 detector to make sure it's functioning optimally, and run a test to make sure that combustion is complete. Incomplete combustion can create carbon monoxide, so this is one of the most critical parts of your maintenance.
Filter Change
This is the one piece of heater maintenance that you should be doing yourself every 1-3 months, but your technician will do it, too.
Communication
It's important that you know as much as possible about how your heater is doing, how to minimize problems, and how to maximize efficiency. When you get heating maintenance in Katy, TX, your technician will communicate clearly with you about these topics as well as be ready and willing to answer any questions you may have.

Reach out to Cool Care Heating and Air Conditioning, The Best Care for Your Air.