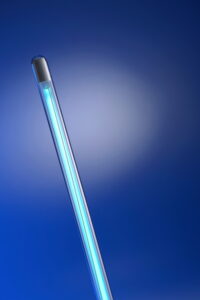 Just last year, the Environmental Protection agency reported that "Americans, on average, spend approximately 90% of their time indoors." While indoors, we breathe whatever contaminants are in our indoor air, and some contaminants are found in concentrations up to five times higher indoors than outdoors! Of course, spending more time outdoors can be beneficial to our health in many ways. But a significant amount of time is spent breathing indoor air regardless. Do we have to resign ourselves to breathing in all those contaminants?
No! A whole-home air purifier can dramatically reduce the particles in our air and give us much higher indoor air quality—and higher quality of life. Let's begin by answering some frequently asked questions about indoor air quality and the systems that can improve it.
Why Is Our Air So Contaminated?
There are many types of particles that can be found in indoor air.
Byproducts of combustion: This can include smoke, soot, scent-causing particles, and more.
Natural substances: Dust, pollen, pet dander, bacteria, viruses, and mold spores.
Volatile organic compounds: Paint, cleaning chemicals, and agricultural contaminants.
How Does Poor Air Quality Affect Us?
Breathing air that is full of contaminants and particles can irritate a person's eyes, nose, and throat. It can cause respiratory problems, or significantly worsen existing respiratory problems or allergies. It can even cause headaches, dizziness, and fatigue. If you have contaminants like viruses or bacteria in the air that you are breathing, it can also increase the risks of sickness too.
How Do Air Purifiers Help?
A filter captures particles as the air flows through it. A purifier adds an additional step: ultraviolet light is used to sanitize the air, killing some of the most dangerous particles like bacteria, viruses, and mold spores. This lowers your risk of illness and keeps your family, your guests, and even your pets safer, which is especially important during the many gatherings and holidays throughout fall and winter. 
What Are the Drawbacks?
With portable air purifiers, there are some drawbacks. They only process a small amount of air, working best in spaces with very small square footage. They have to be moved to where they are needed, they take up space, and you have to find outlets for them. (You also need to avoid tripping over the cords!)
A whole-home air purifier is the best way to avoid those drawbacks. A qualified technician can help you assess the size and layout of your home and determine what your best options are. A system that will work for your home's square footage can be selected, so it can clean the air throughout. The whole-home air purifier is installed in your ductwork or other unoccupied space, so it won't be underfoot or in the way. And it is an extremely efficient system, using very little energy to operate. 
If you're considering your options for an air purifier in Katy, TX, our team would love to help you learn more, so you can choose the system that best suits your needs. 

Reach out to Cool Care Heating and Air Conditioning, The Best Care for Your Air.