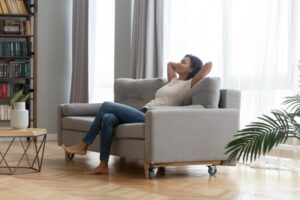 Being a homeowner is one of the most demanding jobs on the planet. As a homeowner, you need to make sure every part of your home is in pristine shape. Indoor air quality is something that the average homeowner tends to overlook.
Considering the fact that you will spend over 90% of your time indoors, removing pollutants and allergens from the air supply in your home should be a top priority. One of the best ways to boost the quality of your indoor air supply is by investing in a whole-house air purifier. Read on to find out more about the benefits associated with buying a whole-house air purifier. 
Reduce Dust Buildup In Your Home
There are few things more aggravating to the average homeowner than seeing large piles of dust. Not only can dust make the inside of your home unappealing, but it can also negatively impact your indoor air quality. If you are tired of seeing dust buildup on the surfaces in your home, it is time to consider investing in a whole-house air purifier. 
Dust will accumulate in your HVAC vents and air filters. Eventually, it will make its way onto the surfaces in your residence. With the addition of a whole-house air purifier, you can capture this dust before it makes its way onto the surfaces. Keeping your HVAC filters, supply vents and purifiers clean will help you reduce the amount of dusting you have to do in the future. 
Improve Your Indoor Air Quality
Breathing in pollen, dirt, and dust can do a number on your lungs. People that live in homes with bad indoor air quality tend to have more respiratory and breathing issues. If you are tired of feeling sick all of the time, then you need to realize the importance of buying a whole-house air purifier. 
Whole-house purifiers will not only remove allergens from your indoor air supply, but they can also reduce the number of germs, viruses, and bad bacteria you breathe in. Most whole-house air purifiers have germicidal capabilities, which means they can filter out harmful germs and bacteria. These systems also remove pet dander and other pollutants from your air supply. With these elements filtered out, you can help to reduce allergy symptoms and respiratory problems. 
Extend The Life Of Your HVAC System
Most homeowners are well aware that routine maintenance is a great way to make their HVAC units last longer and perform better. However, many homeowners fail to realize that whole-house air purifiers can also extend the life of their HVAC systems. 
These purifiers are designed to trap various air contaminants. Removing these contaminants before they clog up your HVAC unit's air filter can reduce the chance that your unit will get overworked. Lessening the strain put on your HVAC unit will extend its life and make it more efficient.
For installation or service on your air purifier in Houston, TX, contact Cool Care Heating and Air Conditioning.