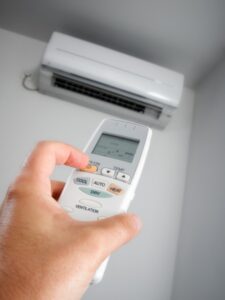 Before you know it, the dog days of summer will be here. You will need to run your HVAC unit more to ensure a comfortable indoor temperature is maintained during this time of year. If you are currently using a traditional HVAC system and feel like a change is needed, then a ductless unit might be a good option.
In 1959, the team at Mitsubishi developed the first ductless mini-split heating and cooling system. Ductless mini-split units allow homeowners to cool and heat their residences without the need for ductwork. Here are some reasons why going ductless this summer is a wise move.
Ductless Units Offer Lots of Versatility
While traditional HVAC units are effective, they lack the versatility that most homeowners want. If you want the ability to heat and cool certain rooms in your home, then a ductless mini-split is a great option. You can put individual units in various rooms of your home.
If you spend more time in certain parts of the home than others, you can use these individual units to stay comfortable. One outdoor unit can power up to eight indoor units mounted throughout your home.
Conserve Energy With the Addition of a Ductless Unit
If your traditional HVAC unit is costing you tons of money due to rising energy costs, then you need to opt for a more efficient heating and cooling system. When compared to traditional HVAC units, a ductless system consumes far less energy. On average, these systems use 60% less energy than traditional HVAC systems. 
Before choosing a ductless system for your home, take time to research all of your options. You need to realize that some ductless units are more efficient than others. While you might have to pay more for ductless units with better energy efficiency, it will be worth it due to the money they will save you long-term.
Easily Heat and Cool Add-On Rooms
Instead of moving out of a home you love when more space is needed, you need to think about investing in additional rooms. Converting your garage or attic into living spaces is a great way to expand the amount of square footage you have to work with. When these add-ons are completed, you need an easy way to heat and cool them. 
Trying to heat and cool these add-on rooms with a traditional HVAC unit will require the running of new ductwork and a larger unit. If you want to reduce the aggravation and cost of heating these add-on rooms, you can't deny the advantages of ductless units.
If you have less than eight rooms already being powered by your existing outdoor unit, you can run a new indoor unit to your add-on with ease. Consulting with experienced HVAC professionals is the best way to get a game plan for heating and cooling your add-on rooms.
For professional AC installation in Houston, TX, contact Cool Care Heating and Air Conditioning today!