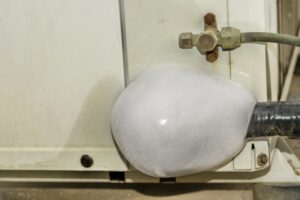 Your air conditioner is getting quite the workout this summer, right? But what if you've discovered that something is not quite right with its performance? You go out to check on the outside unit and discover there's a layer of ice developing on the unit. You might think this is normal–after all an air conditioner chills the air, so isn't it natural to see ice? But unfortunately, this belief can do some harm to your system and to your comfort.
Fortunately, you have the team here at Cool Care to help! Please give us a call before grabbing something to scrape off or thaw the ice. Attempting to remove the ice on your own can do more harm than good to the system, plus it doesn't get to the root of the problem to actually resolve it.
Read on as we explain further, and give us a call when you need professional AC help!