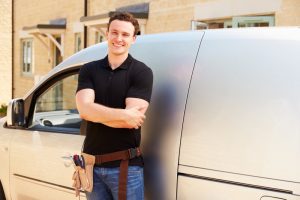 Summer is chugging right along and we aren't even to our hottest temperatures yet. So if you've come across this blog post, chances are it's because you've found yourself in the unfortunate situation of having a broken down air conditioner, and you need a new one.
As such, we know how tempting it is to rush into a purchase, and either install an air conditioner on your own or hire any ol' amateur you know, just because they're a neighbor or a trusted friend of a friend. If they have an HVAC license, great! But otherwise, you're probably going to be better off looking for a legitimate HVAC contractor in your area who knows how to properly match AC systems to specific home types. This will guarantee proper performance and efficiency.
So, how do you find a good contractor? Read on!
Look for Experience
Like we alluded to above, it's easy to call in any handyman or enthusiastic DIY-er as long as they have at least a little bit of experience with electrical and mechanical devices, right? Unfortunately, this might end with nothing but a headache and more money than you even planned on spending to begin with.
Complex HVAC equipment takes years of training and education to understand. By allowing a properly trained and experienced contractor to do the work, you don't have to worry about calling in a pro later on anyway to fix mistakes.
You also have the safety of your household to consider. While air conditioners aren't dangerous, they are heavy pieces of equipment, and have materials that could be potentially hazardous–like refrigerant.
Look for Savings
The cooling system you choose for you and your family is going to play a large role in comfort and health for the years to come. But also, it's understandable that you don't want to pay an arm and a leg every month to receive that comfort! When you hire an expert AC installer, you want one who knows the ins and outs of every type of AC system.
This way, we can help you choose one that matches your specific needs (this is not a one-size-fits-all situation) and therefore operates as efficiently as possible, to help you save a bit of money off your utility bills from month to month.
Look for Comprehensive Products and Services
Like we just said, picking your air conditioner is not a one-size-fits-all kind of deal. While a central AC may be great for one home, a ductless system may be right for another. But what's also important is that the AC installer you have working to put your air conditioner in can also return to do professional, comprehensive maintenance and repairs as needed.
The last thing you need is to work with an installer who only deals with sales and installation–after all, what happens if the installation was done poorly and you can't call that same company back to do repairs? This is a serious consideration to make when choosing an HVAC professional to come into your home!
When you're ready for a professional AC installation in Houston, TX, contact Cool Care Heating and Air Conditioning!