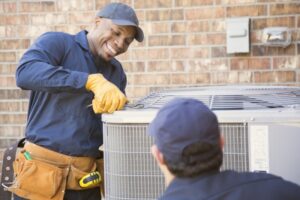 When you live somewhere as hot as Houston, and you've searched for information about AC installation at the beginning of August, that tells a story. You are probably in very big need of a new air conditioner, now.
We completely understand the sense of urgency; however, rushing into an AC purchase is never a good idea, as it can leave you with a system that's improperly matched for your specific home and needs. It might not even be sized correctly for your space.
And then, when it comes to the actual installation job, there are a number of steps that make the installation flawless. If any steps are missed or done incorrectly, it can lead to problems like short-cycling, refrigerant leaks, ductwork damage, and other efficiency problems. It could even lead to a premature system breakdown.
Ultimately, air conditioning systems are very complex and they require a trained and experienced professional to install them.
Read on as we uncover the steps our pros go through, and why it's so important to leave this job to the trained and experienced techs on our team.