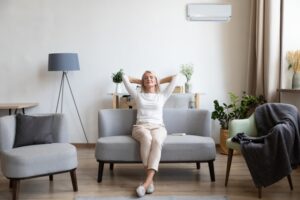 Throughout the past year, homeowners have understandably become much more aware of and concerned about the health and safety of their families. With the continuing pandemic, it makes sense that you want to do everything in your power to ensure that the environment in your home doesn't pose any more of a threat than it should when it comes to germ and virus transmission.
While no product is 100% effective at preventing the transmission of viruses such as COVID-19, there are steps you can take to significantly reduce the risk in your own home. Addressing your indoor air quality needs is something that will benefit you and the rest of your household. One way to do so is with the ActivePure® technology of the Air Scrubber by Aerus®.
Read on to learn more about this system and how it will help protect your environment and your family.
High Standard Protection
There are a number of indoor air quality and home performance products on the market today that will help improve your indoor air and keep your family healthy. The Air Scrubber by Aerus® is one of them! This system cleans, deodorizes, purifies using ActivePure® Technology, and protects. It does this by:
Reducing Contaminants
There's no need for you to worry about the particles being brought into your living space. Whether it's contaminants and allergens from right outside your door, or particles that the kids bring home from school or daycare, the Air Scrubber by Aerus® can destroy up to 99% of all surface contaminants.
Eliminating Lingering Smells
Nobody wants a smelly home, but when the right particles make their way in, things can get stinky. It can be mold spores, VOCs (volatile organic compounds), or even burnt food that brings those odors in. Many times, opening windows and drying to air out your home can seem like a futile effort.
You don't need to try so hard when you have the right indoor air quality system in place.
Purifying the Home
Are members of your household sneezing, suffering from watery eyes, coughing, or even suffering from a lack of sleep? This is all a sign that your home isn't as healthy as it could be. Fortunately, these contaminants can be effectively reduced with the Air Scrubber. The ActivePure® Technology uses special light waves combined with a proprietary catalytic process that enables scrubbing molecules of oxygen and hydrogen in order to purify the air and reduce irritating particulates.  
Protecting Your Health and Your HVAC Systems!
Did you know that the right indoor air quality systems and procedures can actually help protect your HVAC systems? By trapping dirt, dust, and other debris before it has a chance to go through the filter of the HVAC unit, an Air Scrubber helps that system run more efficiently and effectively.
Particle buildup can inhibit your air conditioner or furnace from operating as it should. To compensate they may run longer than they should to keep your home comfortable. This is a waste of money if you could easily resolve it with the right IAQ solutions in place.
Give us a call to learn more, see if this system is right for your home, and to ask about our current promotion on the Air Scrubber by Aerus®!
To learn more about air scrubbers and other methods to improve your indoor air quality in Houston, TX, contact Cool Care Heating and Air Conditioning today—where you get "The Best Care for Your Air"!