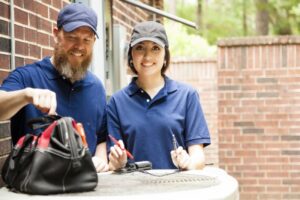 When you live in a climate like ours, it goes without saying that you need quality HVAC systems in place. You need those systems to operate flawlessly each and every day, season after season, and you need them to protect you from the elements our weather brings.
For the most reliable HVAC systems, it's essential that you invest in professional HVAC services from a contractor you can trust. This isn't an investment you want to rush into–doing so could leave you with a furnace or air conditioner that's not properly sized for your home, improperly installed, or just not the best choice for your particular living space.
Whether we're handling your installation, maintenance, or HVAC repairs, you can rely on our team—but how can you be sure? Do you know how to choose the best HVAC contractor? We've provided some guidelines below on how to do just that.
Conduct Thorough Research
Deciding on an HVAC contractor should never be a quick decision, even if it's the middle of a winter night and your heater had completely broken down. Sure, it's tempting to go for the "quick fix," particularly if it is a relatively inexpensive one, but we really want to encourage you to consider the actual costs of this.
What's cheap now can end up being expensive later!
This is particularly true for home services, and your HVAC system is no exception. When it comes down to it, hiring a quality HVAC contractor matters—that contractor should be proud to offer the top brands in heating and cooling products and also ready to work with you to find the best system and services for your specific needs.
Remember, poorly manufactured or poorly installed HVAC products won't hold up over the years. They typically require frequent and costly repairs that you would not have had to deal with if you'd gone with the right professionals for the job. A knowledgeable HVAC technician will recommend the best solutions for you because they know what will work and what will save you money.
Look for a Contractor Focused on Good Customer Service
There are plenty of service companies out there that will come in and superficially fix whatever your problem is, call it a day, and leave. When it comes to your furnace, heat pump, or central air conditioner, you want a professional contractor who will stand by the products and services they offer, and who will ensure your 100% satisfaction. The best way to make sure you're picking this type of contractor is by taking a look at their customer reviews.
What do their current and past customers have to say about them? Are previous customers coming back? Sometimes the best indication of what you can expect from an HVAC contractor is what other people are saying about them.
In addition to quality customer service, you want a contractor who has the expertise to properly address any problems your HVAC systems might have. The last thing you need is someone who comes in and installs the system, but once you have a repair need refers you to someone else.
To get "The Best Care for Your Air," contact Cool Care Heating and Air Conditioning and get in touch with a professional HVAC contractor in Houston, TX.