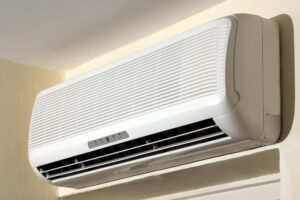 This may seem like a strange time of the year to think about heating system installation, but trust us when we say we have our reasons for talking about this now versus waiting until next fall.
If you're considering a heater installation now, it likely means your old one is struggling, and whatever is causing its ills can cause air conditioner trouble too.
If your air conditioner is also struggling and you're considering replacing this system too, then now might be the perfect time to consider going ductless!
Read on as we dive into the pros and cons of both types of HVAC systems.
Consider Convenience
Depending on your specific needs, a furnace or a ductless system could be more convenient. Here's what we mean…
Furnaces are easier (ahem… more convenient) to install if you already have good quality ductwork in place. Installation costs can be cut down when you don't need brand new air ducts to be put in. As most modern homes in our area already have ductwork for their necessary central air conditioners, you may find it easier to just go this route…. but this isn't always the case.
Ductless systems are great if you're looking to free up space in your home or if your ductwork is in bad shape. In both of these instances, a ductless system may be more convenient because it requires no duct setup at all. Of course, a "con" to the ductless system here is that the installation is a little more expensive because of the work involved–but you can save money in energy costs over the lifespan of the system.
Overall Cost
There's that "cost" word again–let's face it, this is a big factor when it comes to getting a new home comfort system for the home. Not all homeowners have the budget for an expensive HVAC system, but pricier installations usually mean a higher efficiency system and, therefore, lower energy costs throughout the years.
Furnaces are the less pricey option when it comes to installation, which is one of the factors that make them a traditionally popular heating system choice. Of course, there are factors that go into this–if your ductwork is in bad shape then you'll have to consider the cost of duct repair or replacement, too.
Operational costs for furnaces tend to fall on the "average" side. You can certainly get a high-efficiency furnace that will cost you less, but a ductless system is substantially more efficient. This is because they operate on heat pump technology, so instead of generating heat, they transfer heat, which draws less power.
Fuel Source
Every home in our area has electricity… unless you live in the middle of nowhere. But not every home has access to the city's gas lines. Furnaces are convenient because you can get a gas or an electric system, and if you already have gas lines, a furnace may be a great option.
If, however, you've always used electric heat and are looking for better efficiency, then a ductless heat pump can certainly be the way to go.
Cool Care Heating and Air Conditioning is your trusted resource for heating service in Bellaire, TX. Contact us today!