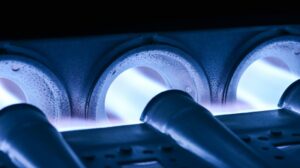 It may not be as cold here as it gets in other parts of the country, but our winters are definitely nothing to scoff at. Once those nighttime temperatures hit around 40°F, you're going to be thankful that you have a fully effective and efficient heating system in place.
What's that? Your heater doesn't work that efficiently? If you find yourself paying more than you think you should each winter for your heating needs, then something may be preventing your heater from working as well as it could.
Maintenance is key to preventing problems and keeping efficiency high, but there are other steps you can take to boost efficiency too. Read on to learn what they are!
Upgrade Your Thermostat!
The thermostat that controls your heating and cooling systems might seem like a small and unimportant device, but it's pretty important. It serves as the "brain" of these HVAC systems, allowing you to communicate with them.
Upgrading from the old manual thermostat to even the most basic digital model will do you well. Even better, consider upgrading to a Wi-Fi or smart thermostat. Smart thermostats "learn" from your heating and cooling preferences, adjusting themselves accordingly, taking into account efficient operation.
Install Weatherstripping to Keep Out Drafts
The heat from your furnace or heating system can seep out through cracks in the windows and doors of your home. What does this mean? Well, you're losing energy but you're still paying for it.
You might want to consider purchasing affordable caulk or weatherstripping to seal up your drafty doors and windows, ensuring that the heat from your furnace stays in your home.
Use Your Ceiling Fans
This may seem like a strange wintertime tip, but keep reading.
Yes, during the warmer months, we suggest using your ceiling fans in combination with your air conditioner to help cool your home. This helps distribute the air more effectively, and you may even be able to turn the thermostat up a few degrees, saving energy and money in the process.
Well, this same concept can be applied to your heating system in the winter, by reversing the direction of the fan blades. There is a switch that's located near the center of the fan, typically above the blades. One simple flick of the switch and you'll be warming your home more efficiently. Of course, you'll want to remember to switch it back when temperatures warm back up.
Schedule a Maintenance Tune-Up
Like we said above, maintenance is vital! If you haven't already done so this year, now is the time to schedule heating maintenance. Maintenance is the best way to make sure that your heater works not only effectively, but efficiently, for as long as possible.
During maintenance, our technicians fully inspect your furnace for potential repair needs, make adjustments, and clean the system inside and out. All of this ensures that your furnace works as best it can.
For quality furnace repair in Houston, TX, contact Cool Care Heating and Air Conditioning. "The Best Care for Your Air!"