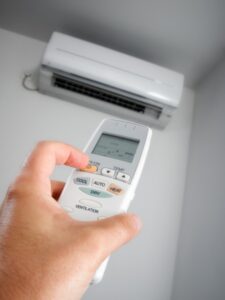 There's a good chance you already have an idea of what a ductless air conditioner is, even if you saw it and weren't quite sure what you were looking at. Have you ever been in a hotel room or a doctors office and seen a unit that looked sort of like a window unit mounted up on a wall? This is a ductless air handler. Ductless systems go by many names–ductless heat pumps or ductless mini-splits, for instance.
But no matter the name, the fact is they're very beneficial for homes around our area, particularly because their heat pump technology is great for climates like ours–hot in the summer and typically mild temperatures in the winter. There are of course rare exceptions to that rule! But overall, a ductless system could really benefit you. Read on to learn how!
They Provide Heating and Cooling
With a standard central air conditioner, you only get cooling. With a furnace or boiler, you get heating. This means you have two systems you have to maintain each year and two systems that will accumulate wear and tear and repair needs.
A ductless system operates on heat pump technology. This means that it used refrigerant to transfer heat instead of generating it, already making it far more efficient than a furnace. It can also serve as a much more efficient air conditioner than traditional central cooling systems.
You Can Have Zone-Controlled Cooling and Heating
Each of the wall units of your ductless systems is capable of functioning independently from one another. You'll have remotes and separate thermostats for each air handler.
So if you have a room that's traditionally warmer than the rest of the house, or if you have household members with different cooling and heating preferences than your own, you don't have to cool (or heat) the entire home to maintain comfort.
You'll Save Energy
The zone control setup of a ductless system isn't the only way that a ductless system helps lower your energy costs. Ductless heat pump systems use smaller motors than conventional heat pumps, which means they draw less energy.
Plus, without ductwork, you don't have to worry about conditioned air leaking out of potential pinhole leaks and small tears in the ducts. With a ducted system, you can actually lose about 30% of this air every time you run your system, which is very wasteful and expensive.
You'll Have Versatility
Ductless heating and cooling systems have become increasingly popular for new home construction and remodeling projects, as they remove the hassle of needing to fit more ductwork into a space. This also makes ductless systems a great option for older homes that never had room for ductwork to begin with!
You'll Have Improved Indoor Air Quality
One of the disadvantages of having a ducted air conditioner or furnace is that those air ducts can collect particles such as dust, dander, lint, and other debris. Duct cleaning is necessary every once in a while to remove this debris.
This stuff can also get blown into your home, irritating those with allergies and asthma and making even healthy people ill. A ductless system completely eliminates this problem by eliminating the presence of ductwork.
For professional and reliable Piney Point Village, TX air conditioning service, look no further than Cool Care Heating and Air Conditioning. Contact us today!