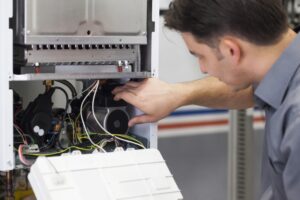 While our last blog post was about air conditioning, the seasons are turning, and it's time to think about your heating system. While Texan heaters don't see as much use as those in other parts of the country, they are still important, and as recent cold snaps have taught us, sometimes having a functional heating system is absolutely critical.
So how is your heater doing? Since you haven't turned it on since spring, there's really no way you can know for sure.
That's why it's so important to schedule heating maintenance in Houston, TX before you run into a heating problem on a cold winter night! But there are many other benefits to heating maintenance besides the reassurance of knowing that your heater will run when you turn it on.
Safety
Your top concern should be safety, as ours is. A gas heater can develop cracked or loose fittings if left neglected, which can lead to fuel leaks in your home. A burner that's not combusting fuel properly can allow gas to leak out and endanger the health of your family. Even an electric heater can pose a safety risk. Our technicians are trained to check and maintain gas heaters and inspect and secure all electrical connections, so you can rest easy knowing you can heat your home without taking any risks.
Fewer Repairs
A regularly-maintained heater will cost you a lot less in repairs over its lifetime. For one thing, a technician will catch any small problems before they become expensive emergencies. For another, they will make sure your efficiency is maximized and all moving parts are lubricated. This cuts down on wear and tear, avoiding strain on the system that can lead to breakdowns.
Longer Lifespan
When your heater is maintained each year, the number of years it will last is extended. Because small problems and wear and tear add up, a neglected heater simply can't carry on functioning for nearly as long. The cost of a new heater and installation, not to mention the inconvenience of it all (especially if the need comes suddenly during cold weather) can be put off for years with regular maintenance.
Decreased Utility Bills
Without maintenance, your heater loses efficiency. When a technician brings that efficiency back up, your energy bills will go down. Your budget will thank you, and for a nice bonus, the environment benefits because you're no longer wasting fuel.
Warranty Concerns
If your heater is still under warranty, there is likely to be a clause in the agreement specifying that regular maintenance needs to be done. Keeping your heater under warranty can save you a lot of money in the future, especially if there is ever a need for significant repair or replacement parts.
By scheduling heating maintenance, you're prioritizing the safety of your home and the health of your family, as well as making sure you'll be warm and comfortable for as long as possible without wasting money on high utility bills.
Reach out to Cool Care Heating and Air Conditioning, The Best Care for Your Air.